Become a rally pro at your own pace.
REQUEST AN APPLICATION FOR MEMBERSHIP
Let us know you're keen to become a Rally Ready member.
We're limiting early memberships to alumni and folks in our Rally Ranch community but please send us a message letting us know if you're interested and we'll get in touch ASAP.
To apply, shoot us a message and tell us why you'd be a great fit, which Mario Kart character is your go to and why. If we like what we see we'll reach out for a more formal application.
MI CASA ES SU CASA
For the first time, you can call the Rally Ranch home. 137 acres of Rally Stages, Off-Road Tracks, and "Sendy Land", our UTV Short Course,  are the heart of the facility.
As a member, you get access to all of that terrain PLUS rock crawling trails, hiking and mountain biking trails, camping, storage for your race, rally, and off-road machines, a workshop to help maintain it, and nearly unlimited annual weekend access to our members.
Welcome home my friends.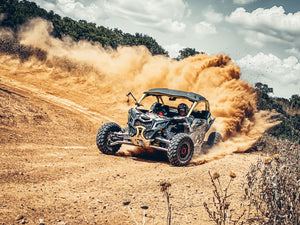 SEAT TIME, SEAT TIME, SEAT TIME
NO MATTER WHAT YOU'RE DRIVING
YOUR OWN PRIVATE GETAWAY
Imagine a track so fun, your kids and your partner want to go just as much as you do. That's the Rally Ranch.
At most race tracks, the fun starts with the green flag and ends at the checker. We're here to make sure the before and after are just as much fun. With regular member activities and events, we want you to be a part of making the Rally Ranch your ultimate playground.
Have an activity or amenity you think we should invest in? Give us a call or shoot us a message and we'll see if it's on our development plan!
Eligibility Requirements
Must be Rally Ready Alumni with a minimum of 1 day of Private Training or 2 days or more group Rally School
Completion of Member Orientation Day 
Not a pain in the ass. IE in good standing with the Rally Ranch (no red card violations on record).
Represents/aligns with our core values.
Submitted an application for membership.
Must love dogs. I guess, technically, you don't have to love them. But there's a lot of dogs around the ranch and severe allergies may be difficult to accommodate, although we're happy to keep the Ranch dogs put up for those that don't like the stinky mutts.