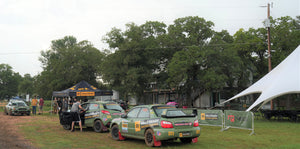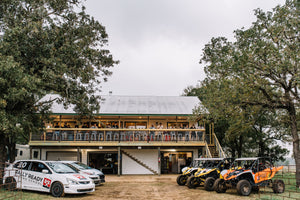 welcome to the rally ranch
Come on in, the dirt's fine.
For all of its open spaces, wide-open beauty and rich, diverse history, Texas has always lacked one thing: world class gravel roads. And as such, rally racing has struggled to find a home in Texas. Infatuated with the sport, Rally Ready founder Dave Carapetyan traveled the country starting in 2004 competing in rallies and learning what makes rally racing the most incredible sport on the planet. Each time the team would come home from a race, there was a collective yearning for a homegrown rally track here in Texas. So we decided to build it.
Our first classes were in Spring of 2012, but it wasn't until June 2015 that Rally Ready moved into our permanent home, the Rally Ranch. On 140 acres just 15 minutes east of Circuit of the Americas, the Rally Ranch is home to rally racing in Texas. With everything from wide open ranch pastures for consequence-free beginner lessons to narrow tree-lined rally stages with jumps, crests and blind corners, the Rally Ranch offers a sampling of world class terrain built specifically for the rally enthusiast.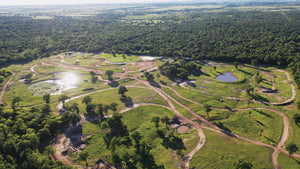 THE MAIN 40 ACRES OF THE 140 ACRE RALLY RANCH
Grade, blade, rake, pack, roll, RALLY, repeat. We care for our dirt like a farmer, because like a farmer, our dirt is our livelihood. In order for you to have the perfect rally school, we must have the perfect dirt. Unlike a paved racetrack, which requires maintenance every few thousand laps or so, a rally track requires constant upkeep. The dirt, gravel, sand and mud ends up sprayed 50 feet from the track or often stuck to the bottom of the car. And to keep your lungs working, we run our water truck constantly for dust mitigation to make sure you go home with ample breath to tell everyone how much fun you had.
Meet the team
It takes a diverse team of very passionate and talented individuals to deliver all the skids, laughs, and high fives we're known for.
DAVE CARAPETYAN
Jamie Lee henry
mike johnson
Director of Sales and Operations
Derric Throne
Director of Motorsports and Hangar 304
Dusty Peterke
Robert Judge
kj miller
Instructor, co-driver training, media
Mark Rose
Media, Content Distribution
Howie Buckley
Rob Winter
Jon Moeller
Mikey Bowlin
Derek Allen
Brian Maskrey
Fielding Shredder
TAKE A LOOK AT THE RALLY RANCH STABLES
In driver training, your vehicles are like your tool box. A whole toolbox of the same vehicles is great for getting people through the program, but we believe that real driver training comes from creating adaptable drivers with a wide range of aptitude in a variety of different vehicles. Not just one or two different cars. So whether you're coming for a 1-day, 2-day, 2-day Advanced Rally School, or one-on-one private coaching, we've got the variety of vehicles to ensure you're not just a one-trick pony!