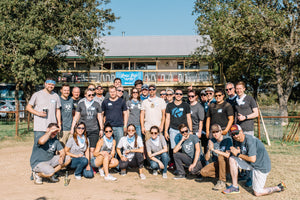 CORPORATE & PRIVATE EVENTS
Whether it's a bachelor or bachelorette party, a weekend retreat with friends, product launch, or a 50-person corporate event, we guarantee to make your time at Rally Ready a truly once-in-a-lifetime experience.
We can host groups from 5 to 50 for our training, and can custom tailor everything to your exact needs. Pancake breakfast, catered BBQ lunch from world-famous Black's BBQ, live music, even custom tracks to show off your brand's special vehicles or products. You name it, we'll make it happen.
It is certainly possible to use our off-the-shelf classes to fit your event, but we enjoy tailoring each part of the day to fit your specific needs and help make it the perfect event. Contact us today for a quote, we're sure to be able to make something just right for your budget!
Bachelor Parties
Looking for the perfect guy's weekend activity before the big day?
Rally Ready is the perfect weekend adventure. Our Bachelor Party events are
entirely customizable for the groom's style, but a few days of sliding-sideways with his best friends is sure to prepare any groom for a walk down the aisle.Contact Us for available dates and for more information on coordinating Bachelor Party Events.
Corporate Events
We love hosting corporate events at the Rally Ranch! Being able to introduce an entire company to the crazy world of rally racing is something that we live for. Push the boundaries of your team's comfort zone at Rally Ready. Your employees will discover skills and confidence that they didn't know they had. We are able to accommodate large corporate events, Contact Us today to learn more about schedule availability and pricing or to schedule a time to come visit the Rally Ranch.
Texas Dave Talks Rally Ready Corporate Events
Q: What type of corporate events does Rally Ready offer?
Corporate events and corporate retreats are one of our favorite things at the Rally Ranch, because it gives us the ability to merge our culture and the culture of rally and motorsports as a whole into the culture of your company. We love to highlight the best of what your company has to offer, whether it's for your employees or your clients, and bring the Rally Ready flare to that. Whether it's doing trophy truck ride alongs, Jeep trail rides in the woods over our rock crawling and off-road course, or putting your employees or customers or clients behind the wheel of a rally car and giving them training, we love building these events and we can customize them to really any budget level.
Q: Who is the Rally Ready corporate event for?
Rally Ready corporate events are perfect for people looking for an adrenaline-filled fast-paced corporate event or retreat. If you're the kind of company that would like to go on an exotic hunt, or if you're looking for off-road racing, or if you're looking for a backpacking trip or some kind of extreme corporate event, this is a place where we can give you that same level of trauma bond. It's as if you took your team to go hike Everest or on a crazy exotic international adventure without having to leave the comfort of staying at a W Hotel at night. The Rally Ready corporate events and retreats are built for any team regardless of their budget, that's looking for the highest impact, highest value connection for a team. We can offer C-level executive training and leadership training and team-building exercises all the way to just pure adrenaline thrill rides in race cars, rally cars, trophy trucks, and off-road vehicles.
Q: What is the timeframe of a typical corporate event?
Our corporate events can go anywhere as short as two hours up to two days or longer, they can include overnight stays or campouts. We can provide catered meals, barbecue, burgers, any kind of food requirements for your team that you'd like we can make it happen as well as any category and type of off-road vehicle and driving.
Q: What will people typically drive for a default corporate event?
Most corporate events are going to obviously include rally cars, as well as ride-alongs in our proper, fully caged and prepared professional rally cars, and often include the opportunity to ride in a trophy truck over a giant Baja style, Baja 1000 racecourse with big jumps. We'll teach people how to drift and we'll take them for safari-style ride-alongs in our Toyota Land Cruisers on our off-road course.
Q: What type of private events do you offer and who were they for?
Private events can be for anyone from one-on-one training for professional drivers or aspiring drivers up to group classes, whether it's a bachelor party, a birthday party, or just to get away for a group of friends. If you have a group of people and you're interested in a rally school or a racing school, we can provide a unique one-off event so that you can have an entire day or weekend experience with just your group of friends.
Q: What will the experience look like for somebody doing an event like that?
Private training or experiences is always going to be completely tailored to your group. If you're coming for a bachelor party, we can cater you the meals, throw a party, start when you'd like and finish when you'd like, and make sure that the entire day is full of fun that's focused around your group or your bachelor. That can include lots of fun games and cars and one-off time trials and races, so we can see who can beat the groom.
If you're coming with a group of friends, similarly, we'll be able to provide the same scaled curriculum. You might have a group of friends who have all been experienced in motorsports in some way, so you may want a different pace of curriculum than you would normally get in a group class or the opposite. You may have a group of people, whether it's friends or colleagues, or whatever, who just are looking for a brand-new novice class, you've never driven any race cars, and you don't want to be in a group class, great. We can build your own class from scratch, and that can even include teaching you how to drive manual transmission, if you've never done that, all the way up to getting you comfortable going full speed in a rally car.
Q: If somebody wants to sign up for a corporate or private event, what does that process look like?
Signing up for a corporate event is unique because it requires that we build it from scratch for you. The best way to sign up for a corporate event is to send us an email through the contact form on the website or give us a phone call directly. One of our consultants will get you set up immediately with a quote and a calendar of when we're available.
Tell us about your upcoming event